| | |
| --- | --- |
| | Rhythm patterns are often difficult to remember, and even more difficult to read. PercussionStudio solves these problems with its simple rhythm notation system that lets you easily transcribe rhythms. It can play multiple instrument voices simultaneously, and each track is mutable so you can play along and learn individual parts. The program comes with a set of standard rhythms, and you can add your own instruments. It provides functions for automatic handset notation. You can also use Percussion Studio as a rhythm sampler with WAV files. The program allows simultaneous playing and editing, and plays note changes immediately. About 170 percussion instruments for download available. |

V1.05
Pan-slider for each track
V1.06
Export as WAV-file
bpm range 30-400
Cursors
V1.07
MRUs 4->9
Documentation
V1.07b
Fixed problem with some soundcards, and wave-file format.
V1.08
Undo implemented
V1.09
Fixed problem deleting all measures of a track.
Handset notation supports any letter.
V1.10
Limit of rhythmlength extended. (Win95/98)
V1.11
Comments can be written at the top of the rhythm.
V1.12
32bit digital audio reverb
V1.13
individual measure speed
V1.14
Audio device is selectable
Does´nt lock audio device if stopped
V2.01
Triplets with shift key
Track comments
V2.02
Variation measures
Setup error fixed
(b)BugFix deleting measures
(c)smaller pcc-files
(d)view/hide instruments
V2.03
Exception handling
V2.04
Memory open path
Repeat Points
V2.05
Stretch the timing of measures to make rhythms swinging.
More than one track can be marked for solo play. (Hold down shift key)
V2.5h
Pan slider affects delay instead of volume
V3.0
Up to 32 sounds per Instrument
Split View
User definable symbols
Notes in first 1/16
Multiuser network mode
V3.02
Support for VSTi Module
V3.03
VSTi Loop on/off
V3.04
Vista support.
Instuments moved from
"inst" to
"Common Documents/
PercussionStudio
Instruments"





PercussionStudio
Registration is required to enable the saving of your work and the network functions. ($29)
Otherwise you may donate to support the player


PercussionStudio+
PercussionStudioVSTi

Included Instruments:
Conga, Tumba, Quinto, Conga2, Agogos, Bell, Bongos, Cascara, Clave, CowBellHi, CowBellLow, Guiro, Maracas, Patschhanditsam, Shaker, Shekere, Sourdo, Triangle, for more see the instruments page.

Included Rhythms
Rumba Columbia, ChaCha, Funk, Guaguanco, Jamaican, Merengue, Mozambique, Nanigo, Calypso, Samba, Wolosodon, for more see the rhythms page.

Requirements:
OS: Windows XP/Vista/7/8/10,
SoundCard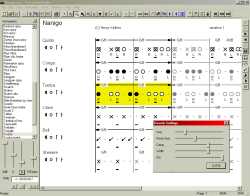 Any suggestions, feedback and comments are welcome and won´t be ignored. mail to ClickMe
| | |
| --- | --- |
| | |
| English | Español |
| | |
| Français | Deutsch |
| | |
| Dutch | Italiano |
easyDays
iPhone calendar app

Textplorer

Photoplorer

Links

Reviewed in french at www.percussions.org:



Forum: here


www.andreasvonhoff.de


www.cheappercussioninstruments.com
www.congas.ch