With PercussionStudioVSTi you can use hundreds of Percussion Studio instruments as MIDI instruments in your VST host, like Cubase, Sonar or Tracktion.
It can also connect to PerucssionStudio and snychronize the loaded rhythm with your VST host project. The Rhythm can be edited in realtime at your running instance of PercussionStudio (registered PercussionStudio required).
The unregistered version of PercussionStudioVSTi is limited by muting the audio output every 8 seconds.
V1.01
First release
V1.02
Fix for old VST-interface (Tracktion2)
Loop on/off from PercussionStudio (V3.03)
Sequencer speed factor
V1.03
Fixed error "Close Effect" and Error on closing projects in Sonar.
Renamed to PcsStudio.dll to make it also visible in Sonar 6.
Delete PercussionStudioVSTi.dll if you have installed an older version!
V1.04
Fixed error with FL Studio
V1.05
Vista support. (Instuments moved from inst to Common Documents/PercussionStudio Instruments



DrumKit GM
Use this channel setting for a complete General MIDI DrumKit. You need these PercussionStudio instruments: DrumKitGM, DrumSet, Patschhanditsam1, Tambourine, CowBellLow, Bongos spicy, Conga Andre, Tumba Andre, Timbales, Agogos, Cabasa, Maracas, Apito, Guiro2, Clave, WoodBlock, Cuica, Triangle


PercussionStudioVSTi
Registration is required to enable continous audio output. ($25)


PercussionStudio+
PercussionStudioVSTi
Requirements:
OS: Windows 9x/ME/NT/2k/XP/Vista,
SoundCard, VST host application, PercussionStudio (registered for synchronization)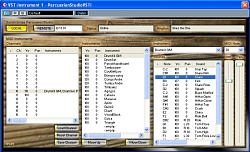 Any suggestions, feedback and comments are welcome and won´t be ignored. mail to ClickMe

| | |
| --- | --- |
| | |
| English | Español |
| | |
| Français | Deutsch |
| | |
| Dutch | |